About Cleaning Your Heat Pump
1. Before cleaning your heat pump, switch it off to ensure safety. The main power isolation switch is generally found on the outdoor unit. If you are having trouble locating this switch, please call your local air conditioning service company for instructions.
2. Once inside, be careful not to touch the metal coil/fins with your hands.
3. Use only diluted mild detergents.
4. Do not use benzene, thinner, polishing powder, or insecticide.
5. Do not expose parts to direct sunlight, heat, or fire.
6. Some vacuum cleaners are equipped with overload protection devices, which might activate if the airflow through the vacuum cleaner hose is restricted. In that case, use the lowest power setting available.
7. If the special-made brushes become dirty, wash them with water and let them dry completely out of direct sunlight.
8. When cleaning the heat pump, do not stand on an unstable bench or chair. This may cause an injury if you fall down.
9. Please refer to the operating instructions of your heat pump for more information.
10. Under no circumstances should you apply water to any of the inner workings of a heat pump.
What you will need
To get started, you will need a pair of gloves, a cleaning cloth, vacuum cleaner and our Quick Clean accessory kit.
The MAC-093SS Quick Cleaning kit is available to purchase from your installer or through the Mitsubishi Electric Spare Parts service.
Cleaning the front panel
Lift the front panel of your wall unit until you hear a click.
Hold the hinges and pull to remove.
This panel can be wiped with a dry cloth or rinsed in luke-warm water, before being dried with a soft cloth. Place this panel aside for now.
Connecting the quick clean kit
Next we'll prepare our Quick Clean kit ready for use. Insert the universal adapter into your vacuum cleaner tube, followed by the flexible connection hose. There are two brush sizes provided.
Cleaning the air filter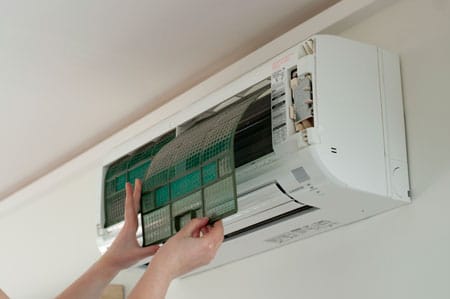 Let's now clean an Air Filter. This should be performed every two weeks. With the front panel open, unclick the Air Filter and remove. Light dust can be removed with low power vacuuming, or wash in lukewarm water for heavier dirt. Allow to dry and place aside.
You may notice a second filter within the air filter frame – this is the Air Cleaning Filter. We recommend this is cleaned every three months in the same way as cleaning the Air Filter it sits within. Your Air Cleaning Filter should be replaced annually.
With the air filters removed and cleaned, we'll now clean the Heat Exchanger within your air conditioner. This is best to do once the unit has been off for at least 5 hours to avoid any moisture or heat buildup.
Cleaning the heat exchanger
Wearing gloves, vacuum with the large brush attachment only in a vertical action, following the fins of the Heat Exchanger.
Use the small brush attachment to clean the harder to reach, narrow spaces at the top and bottom of the Heat Exchanger.
Lastly, we'll clean the Fan Unit itself. These instructions relate to Mitsubishi Electric models fitted with a Quick Clean Body allowing easy fan access. Consult your instruction manual if your Fan Unit looks different to this.
Start by turning the horizontal vanes downward. Remove by unlocking both sliding tabs to the right.
Cleaning the fan
Swing out the two vertical vanes one by one. Clean the air outlet with a soft dry cloth.
Using your Quick Clean Kit adapters, move your brush along the blades of the fan horizontally. Place the vertical vanes back into their respective guides one by one, they will click into place.
Install the horizontal vane by following the removal steps in reverse. If the horizontal vane isn't re-installed correctly, all LED lamps will blink when power is turned back on.
Don't forget to carefully place the Air and Air Cleaning Filters back into their original positions, along with the front panel fitting. Your Mitsubishi Electric Air Conditioner is now cleaned and ready for use.
Need help?
Our after-sales support team can assist you with more information on how to care for your unit or put you in touch with an Accredited Service Provider who carryout maintenance for you.