EXPLORE THE
MITSUBISHI ELECTRIC RANGE
Air Conditioners
An extensive range of indoor unit styles and outdoor unit capacities ensures flexibility to meet the most challenging of air conditioning needs, from wall-mounted and floor-standing designs to fully ducted air conditioning solutions.
VIEW OUR RANGE
Air Treatment
Mitsubishi Electric is a world leader in the development of products designed to not only move air but to also clean and purify our air as well. Explore the range of air purifiers, dehumidifiers, pedestal fans, and LOSSNAY heat recovery systems.
VIEW OUR RANGE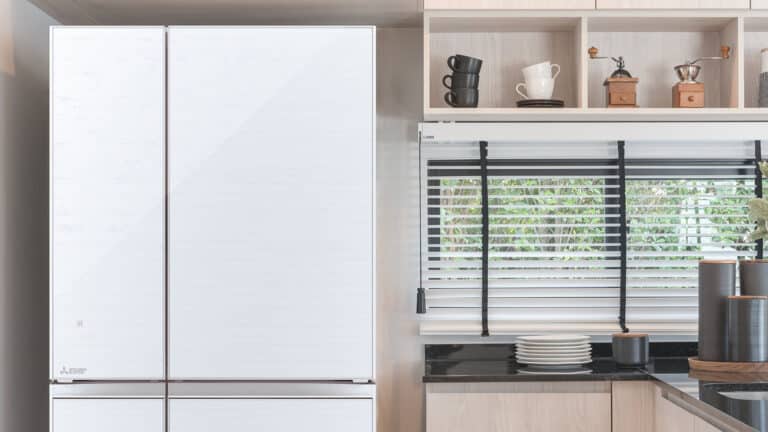 Fridges
Award winning refrigerators designed with the end-user in mind. Different designs and capacities available to fit your kitchen needs, Multi-drawer, French door, Top or Bottom freezer models.
VIEW OUR RANGE
MSZ-AP Series
The quiet performer
Our wall mounted split system reverse cycle air conditioners are engineered for high performance and feature a new square-lined design. Models range from 2.0 to 9.0 kW.
Learn More
CGX Glass Series
A touch of luxury
The CGX Glass Series bottom mount fridge is the ultimate in innovation with its unique 3 door design and glass front door. It is designed with a reduced width, perfect for smaller fridge cavity space, and features a vegetable drawer, an automatic ice maker, a supercool chilling case, and a convenient freezer drawer.
Learn More
Find the best solution for your needs with our Product Selector
Mitsubishi Electric Product Selector Guide will assist you in the types of Units available for your specific requirements.